Description
We make hardcore one-button rhythm games!
History
Early history
Two childhood friends and Malaysians, Hafiz Azman and Winston Lee, decided to make a little Flash game in the summer of 2011 while studying in university in the UK. It was their first time doing game development, driven solely by this game idea, and every summer and winter holiday from that point on was spent on this game. During the Christmas holidays of 2012 they finally released an early demo on TIGSource in a thread called 'Rhythm Doctor - a tough-as-nails rhythm game!'. To their surprise it was well-received! On a whim they decided to enter it for the IGFs the following year. To their (bigger) surprise they were selected! That was the year they set foot on US soil for the first time.
At GDC, they met Giacomo Preciado, a programmer from Peru, and he joined as 7th Beat Games' third member. Today after graduation, the three work on the game from their respective home countries.
Projects
Logo & Icon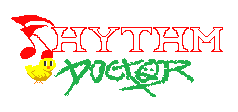 Awards & Recognition
"IGF Student Showcase Nominee" San Francisco GDC 2014
"PC Gamers' Top 50 Free Games of All Time" PC Gamer, 2016
"Dare to be Digital 2015 Nominee" Dundee, UK, 2015
"$15000 Government Grant Recepient" Intellectual Property Creators Challenge (IPCC), Malaysia, 2015
Additional Links
Rhythm Doctor Browser Demo

Rhythm Doctor Greenlight Page
Team & Repeating Collaborator
Hafiz Azman

Game Design, Programming, Music

Winston Lee

Artist

Giacomo Preciado

Alberto Gonzalez

Additional Programming
Contact
Twitter

Facebook

Website