Description
Rhythm Doctor is a one-button rhythm game that aims to invisibly teach complex music and rhythm theory. The core mechanic is simple: slam your spacebar on the 7th beat to save patients in a hospital. But every level has a twist on that concept: polyrhythms, offbeats, hemiolas, irregular time signatures.. if those don't mean much to you, don't worry - it's designed to make you learn rhythm theory without even realising it. The simple one-button control scheme is balanced with brutally hard precision down to milliseconds, making saving every patient a challenge.
History
Two friends learnt game development solely driven by a game idea, while studying Engineering and Actuarial Science at the University of Cambridge. The idea came about while the game designer was getting his Diploma in Music and studying music theory. They released a demo and won an IGF nomination for the game back in 2014, while they were still in school. The response was overwhelming, with the online demo game being played more than 400,000 times. Now that they've finally graduated, they've expanded their team and are going full steam on development to finish this game. As of 29th March 2017, their game has been Greenlighted on Steam and will be released later this year.
Features
20+ handmade levels, each with their own story.
Every level introduces a different concept of rhythm theory in an accessible way.
A large cast of doctors and patients feature in an epic overarching storyline.
Play solo campaign or grab a friend for drop-in drop-out local multiplayer throughout the whole campaign!
Blind mode, where the game can be played completely via audio cues only.
Challenge levels and New Game+ modes for the brave.
Full visual and audio calibration settings.
A millisecond-precise rhythm engine, tested and tweaked over hundreds of hours.
Logo & Icon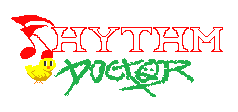 Awards & Recognition
"IGF Student Showcase Nominee" San Francisco GDC 2014
"PC Gamers' Top 50 Free Games of All Time" PC Gamer, 2016
"$15000 Government Grant Recepient" Intellectual Property Creators Challenge (IPCC), Malaysia, 2015
"$6500 Peru Startup Government Grant Recepient" Peru, 2017
"Indie Prize: Best Audio Award" Casual Connect, Singapore, May 2017
Additional Links
Gamasutra Interview

Original Soundtrack

Rhythm Doctor Browser Demo

Rhythm Doctor Greenlight Page
About 7th Beat Games
Boilerplate

We make hardcore one-button rhythm games!

More information

More information on 7th Beat Games, our logo & relevant media are available here.
Rhythm Doctor Credits
Hafiz Azman

Game Design, Programming, Music

Winston Lee

Artist

Giacomo Preciado

Alberto Gonzalez

Additional Programming

Jakob Crowe

Additional Level Designer
Contact
Twitter

Facebook

Website